Introducing StoryBooks: Revolutionizing Children's Education with AI-Powered Storytelling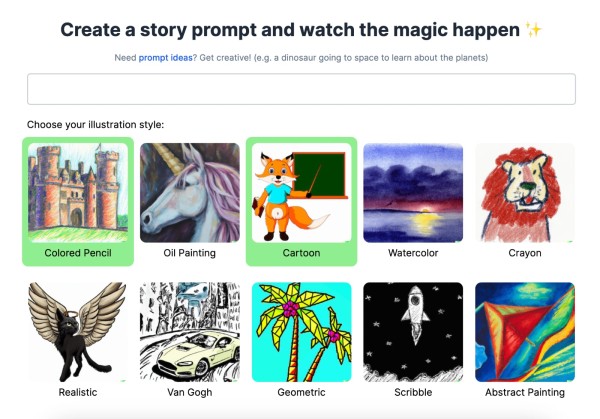 We are thrilled to announce the launch of StoryBooks, an innovative new application that harnesses the power of artificial intelligence to transform the landscape of children's education.
StoryBooks integrates two groundbreaking AI technologies developed by OpenAI, ChatGPT and DALL-E, to generate engaging, illustrated stories for children. ChatGPT, a powerful language model, crafts unique narratives while DALL-E, an AI capable of generating images from textual descriptions, brings these tales to life with vibrant, custom illustrations.
By utilizing these technologies, StoryBooks offers an infinite library of stories, each uniquely generated for individual users. The app can adapt story content to a child's specific interests and reading level, promoting a more engaging and personalized learning experience. The aim is to foster a love for reading and enhance literacy skills from a young age.
"As technology and education converge, it's important we harness the potential to deliver truly individualized learning experiences," says Wormuth, Founder of StoryBooks. "Our aim with StoryBooks is not just to use AI for generating stories, but to inspire a new generation of learners, spark creativity, and make education a fun, immersive experience."
However, StoryBooks doesn't intend to replace the human touch in storytelling. It's a tool designed to enhance the learning journey. In addition to fostering reading habits, it opens up conversations about AI and its increasing role in our everyday lives, promoting technological literacy among young users.
Safety is also at the forefront of the StoryBooks experience. We use stringent content filters and adhere to robust data privacy protocols, ensuring a secure environment for children to explore their literary interests.
In the ever-evolving landscape of EdTech, StoryBooks aims to stride ahead by merging the charm of storytelling with the transformative power of AI. By making learning more interactive and adaptable, we are committed to shaping an exciting future for children's education.
StoryBooks is available for free at https://www.storybooks.app.
About StoryBooks
StoryBooks is an innovative EdTech company focused on revolutionizing children's education through artificial intelligence. By integrating AI-powered storytelling and unique illustrations, StoryBooks aims to foster a love for reading, enhance literacy skills, and promote a more engaging, personalized learning experience for children around the world.
Note to Editors: For additional information, please visit https://www.storybooks.app or get in touch at [email protected]. Images and interviews available upon request.
Follow us:
Facebook: https://www.facebook.com/storybooksapp
Instagram: https://www.instagram.com/storybooks_app
Linkedin: https://www.linkedin.com/company/storybooks-app
Twitter: https://twitter.com/storybooks_app
Media Contact
Company Name: StoryBooks
Contact Person: Alex Wormuth
Email: Send Email
Phone: 951-312-6543
Country: United States
Website: https://www.storybooks.app