Gururo.com opens Project and Program Management courses for all International Locations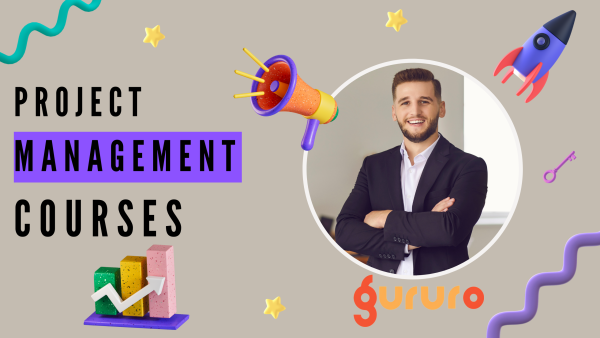 Gururo – Shaping the Future, an online education and certification provider leader, is launching practical courses for professional project managers worldwide. So now International students can take advantage of all the courses available earlier in India.
The courses, which cover Project management, Program Management, Product Management, cost and budget management, risk, Quality, Agile, Scrum, Scrumban, Kanban etc., will provide students with the skills and knowledge they need to succeed in today's competitive marketplace. This launch comes when there is an increasing demand for qualified project managers, and Gururo's courses will provide a way for professionals to upgrade their skills and knowledge.
"These courses are designed to help professionals keep up with the latest trends and best practices in their field," said Gururo Director Sudeep Dwivedi. "We are proud to offer these courses to our learners and bring them closure to practical experience which will help them propel their careers forward."
PMP professionals can also use these courses to renew their PMI certifications. The launch of these courses reinforces Gururo's commitment to providing quality education and training to professionals worldwide.
Gururo has launched project and program management courses in countries like Argentina, Armenia, Australia, Bangladesh, Brazil, Canada, China, Denmark, Egypt, France, Germany, Indonesia, Ireland, Israel, Italy, Japan, Korea, Malaysia, Netherlands, New Zealand, Pakistan Philippines, Poland, Portugal, Qatar, Russia, Saudi Arabia Singapore South Africa Spain Sri Lanka Switzerland Taiwan Thailand Trinidad & Tobago, Turkey, Ukraine, United Arab Emirates, United Kingdom, United States, Uruguay and many more countries.
Professionals with Project Management Institute PMI certification like PMP®, PgMP®, PfMP®, PMI-PBA® CAPM® PMI-ACP®, PMI-RMP®, PMI-SP® can use these courses and gains the required 30 PDUs or 60 PDUs for their PMI certification renewal. As soon as you complete a course, you can claim PDUs immediately.
Links to enrol on courses are below
60 PMP PDU course Bundle
https://gururo.com/60-pmp-pdu-course-bundle-int/
45 PMP PDU course Bundle
https://gururo.com/45-pmp-pdu-course-bundle-int/
30 PMP PDU course Bundle
https://gururo.com/30-pmp-pdu-course-bundle-int/
COURSE DETAILS
The courses are suited most to Delivery Managers, Program Managers, Project managers, Scrum Masters, Product managers, Business heads, Technology heads, founders, executives, CxOs, or anyone who is involved or wants to learn and boost their career.
Cost And Budget Management
Earn 15 PDU. This course will help you understand the practical aspects of managing cost and budget and will put you ahead of your competition.
The course is divided into four areas which will explain every aspect of Project costing & Budgeting.
Product And Technology Roadmap Planning
Earn 15 PDU. In This course, you will learn a framework you can use for Technology and Product roadmap planning, Sequencing projects in a program, Quarterly and Annual planning and Multiple projects planning. This is among the most popular courses available on Gururo and is unique in many terms, giving you an unparallel advantage over the others who haven't done this.
Learning Atlassian Jira With Practical Examples
Earn 15 PDU. This course is the fastest route to level up your JIRA skills.
This course is well thought out and designed to suit the fundamental and advanced JIRA user. This course walks through all the core features and concepts of JIRA with real-world examples and has been catered to general users and managers. Updated as of Nov 2020, it incorporates and uses some of the latest features released for JIRA Software on Cloud (standard version). First, learn how to create and configure JIRA Agile boards SCRUM and KANBAN; understand what JIRA is, the benefits of JIRA, and how to use JIRA. Then, use JIRA as a user working within an agile team – creating, working on, searching for issues, customizing dashboards, etc.
Professional Scrum Master Certification
Earn 15 PDU. This PSM course aims to help participants understand Scrum and how it works practically. In addition, this course will help participants cultivate a profound understanding of servant leadership, through which they can act as Scrum Masters.
This Professional Scrum Master™ (PSM) Certification Training covers the intrinsic details underpinning the Scrum framework. This practical course will prepare you to ace the PSM 1 Certification and help with new career opportunities.
This PSM training is designed to fit the ever-changing industry requirements. Our coaches distil their years of experience implementing agile and Scrum in organizations ranging from startups to Fortune 500 companies across various geographies into the content prepared.
ECommerce Domain Knowledge
Earn 5 PDU. Global retail eCommerce sales are projected to reach $27 trillion by 2020. First, however, you need to know what eCommerce is. This course is most suited to anyone involved or wanting to gain eCommerce Domain Knowledge. You will learn eCommerce domain knowledge, various eCommerce models, Terminologies related to eCommerce, The lifecycle of an eCommerce SKU, How you can utilize eCommerce knowledge, Best Practices and much more.
Six Sigma White Belt Certification
Earn 5 PDU. Six Sigma is a methodology that is effective in every single sector. Regardless of whether you work in IT, manufacturing, or health care. This course is for you if you have a management, auditor, or quality assurance position. It will boost your employability, skills set, and salary. You will Become a certified Six Sigma white belt after this course and Experience an actual six sigma project from A-Z, Get a High-level view of the DMAIC structure, Understand the basics of tools & methods used in six Sigma and Be able to join the conversation with six sigma professionals.
Risk Management
Earn 5 PDU. Projects deal with change, and coping with change brings risk. Without risk, there would not be any reward. Therefore, proper risk management is imperative to the success of your projects. Learn the tricks of dealing with project risk.
Program Management
Earn 5 PDU. Learn how program management is done in product-based organizations. Also, understand how it is different in service-based organizations.
Six Styles Of Leadership
Earn 5 PDU. By going through this course, you will get an understanding of the six leadership styles. If you embrace this framework and learn how to use it, it will take your leadership capabilities to the next level.
Leadership Authority
Earn 5 PDU. Leadership is the ability to lead people. It'sIt's not power, although leadership can make an individual very powerful. It'sIt's not authority, either, although showing strong leadership can often lead to a position of authority. Instead, leadership is a personal quality that some people seem to have innately but that anyone can develop within themselves. And a good leader can accomplish more than someone with equal or even greater authority. Understand through this course how to be a leader – Things you should DO and AVOID.
Power Of Discipline
Earn 5 PDU. Go through this course to understand how you can achieve discipline in the most accessible and feasible way.
Success Habits
Earn 5 PDU. Learn the habits which can make you successful.
Make It Happen
Earn 5 PDU. Would You Like To Discover A Shortcut To Setting Up Good Goals And Making Things Happen Even Faster? If you follow the step-by-step guide to set up reasonable goals and start achieving every single one of them, you will be heading towards living the Life of Your Dreams.
Insight Into Scrumban
Earn 5 PDU. You are familiar with Scrum and might have heard of Kanban, but have you heard of Scrumban?
Scrumban combines the team orientation and sprint focus of Scrum with the flow and queuing principles of Kanban to provide teams with a lean-agile approach to deliver value early and regularly. It can help you refresh stale agile practices and better manage the expectations of your product owners and customers.
This course will give you sufficient awareness of Scrumban to help you determine whether it will be the right delivery approach for your next project.
By the end of this course, You will have a good understanding of Scrumban.
Insight Into Kanban
Earn 5 PDU. In this course, you will learn essential lean principles and discover how to use a kanban board to help your team prioritize more effectively. Learn about starting enterprise lean, setting up a board, optimizing your flow, and more.
By the end of this course, You will become PRODUCTIVE in Kanban.
Learning Jira Next-Gen With Practical Examples
Earn 5 PDU. This course is most suited to anyone working on or who wants to learn Jira with real-world examples of how you can use Jira for agile teams and ideas on taking advantage of Jira Next-Gen for various scenarios.
SLA – Practical Implementation
Earn 5 PDU. Regardless of any industry, If you are working in managed service or maintenance projects, it's imperative to know the nitty-gritty of SLA. It will boost your employability, skills set, and salary. This course aims to empower you with knowledge of Service Level Agreements, enabling you to enhance your understanding of managed service projects.
WHY THE BEST CHOOSE GURURO FOR PMP RENEWAL
Unrestricted 365 Days Access
Start immediately after enrolling
100% guarantee of PDU approval
Earn PDUs quickly
30 Days Money back guarantee
Certificates Of Completion For All Courses
No Hidden Or Recurring Fees
PMI Approved Courses
Quality Video Training Content
24/7 Support
Media Contact
Company Name: Gururo Private Limited
Contact Person: Robin Singh
Email: Send Email
Phone: +1 (714) 410-1010
Country: United States
Website: Gururo.com