Robin Pandey Set to Launch New Book "Mirror" Which Gives Readers a Look Into Who They are and What Their Personality Really Is
This book by spiritualist and metaphysician Robin Pandey helps readers discover their true selves and readjust any unclear and delusional perspective they may have held onto about themselves
Humans are perhaps the most complex beings in the universe, with trillions of parts working together to create a whole. The components and parts that make up the framework of humans are so complex they are almost unfathomable. It is easy to assume that one has a perfect understanding of who they are because of their thoughts, words, personal experiences, and other information. This allows people to slip into a sense of idleness as to their personalities and while this may be safe, it does not truly reveal the true character of a person's being.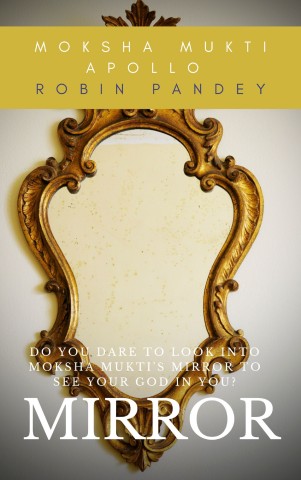 Having understood how humans are wired and the things needed to unveil a person's true self, Robin Pandey is pleased to announce the release of his fourth book titled "Mirror." The book which is scheduled to be released on November 4th will serve as an eyeopener to readers, helping to reveal who they really are, beyond just their believed personalities. It is an interesting read that is a product of Robin's years of research as a spiritualist, metaphysician, and philosopher as well as revelations that occurred to him as a divine gift to pass along to humans on the planet.
Ahead of the launch of Mirror, Robin Pandey, whose spiritual name is Moksha Mukti Apollo had this to say, "If you were to collect every thought you had, every word you typed, and every other piece of information that you ever shared, seeing it all in one place would be like looking into the most accurate mirror in the world. But once you see all that, you wonder what else is there? Your world has comprised all these personal experiences, so how can you really know that life outside of them exists? The book you're about to discover will drill a tiny hole in that conviction, so small that you will hardly notice. Then, every piece of evidence and every fact you've ever known will slowly shrink and disappear into that hole, revealing the naked truth once you have reached the last page."
Mirror promises to be a perfect reflection of who they are as readers knew but did not let themselves believe. Moksha Mukti has spent more than two decades observing and engaging revelations along the lines of this subject and is well-suited with information to provide accurate expressions to point humans to the source. Mirror by Moksha Mukti will be the best resource for people looking to explore spirituality and their true selves.
For more information, please visit https://www.apolloperformingarts.net/meditation-lessons
About Robin Pandey
Robin Pandey was searching for spiritual enlightenment in the United States and in 1994 his intellectual experience heightened and in 2009 his exploration halted after a phenomenon occurred that allowed him to experience extraordinary experiences for several months and forsake eating meat and drinking alcohol. This phenomenon occurred in a flash and detached him from his conditioning. Since then, he is also known as Moksha Mukti Apollo, his spiritual name.
His followers say Moksha Mukti (Robin Pandey) is an enlightened being. Many people reported that when they came to listen to Moksha Mukti talks online and offline, their pain vanished such as backache, headache, even some cancer patients with acute pain. Some followers reported that after meeting with Moksha Mukti their fear vanished, and they could do things they used to fear. Others quit alcohol and cigarettes, and so on and so forth as they felt tranquil and calm and paid attention to who they really are.
When Moksha Mukti used to give public talks, he had thousands of followers online and offline. Moksha Mukti used to give public talks, and nowadays he only gives private talks upon requests.
Media Contact
Company Name: Apollo Performing Arts & Academy Inc.
Contact Person: Robin Pandey
Email: Send Email
Phone: 469-616-1950
Country: United States
Website: https://www.apolloperformingarts.net/meditation-lessons