CHECKTHESTAR Announces New Partnerships, Brands and Projects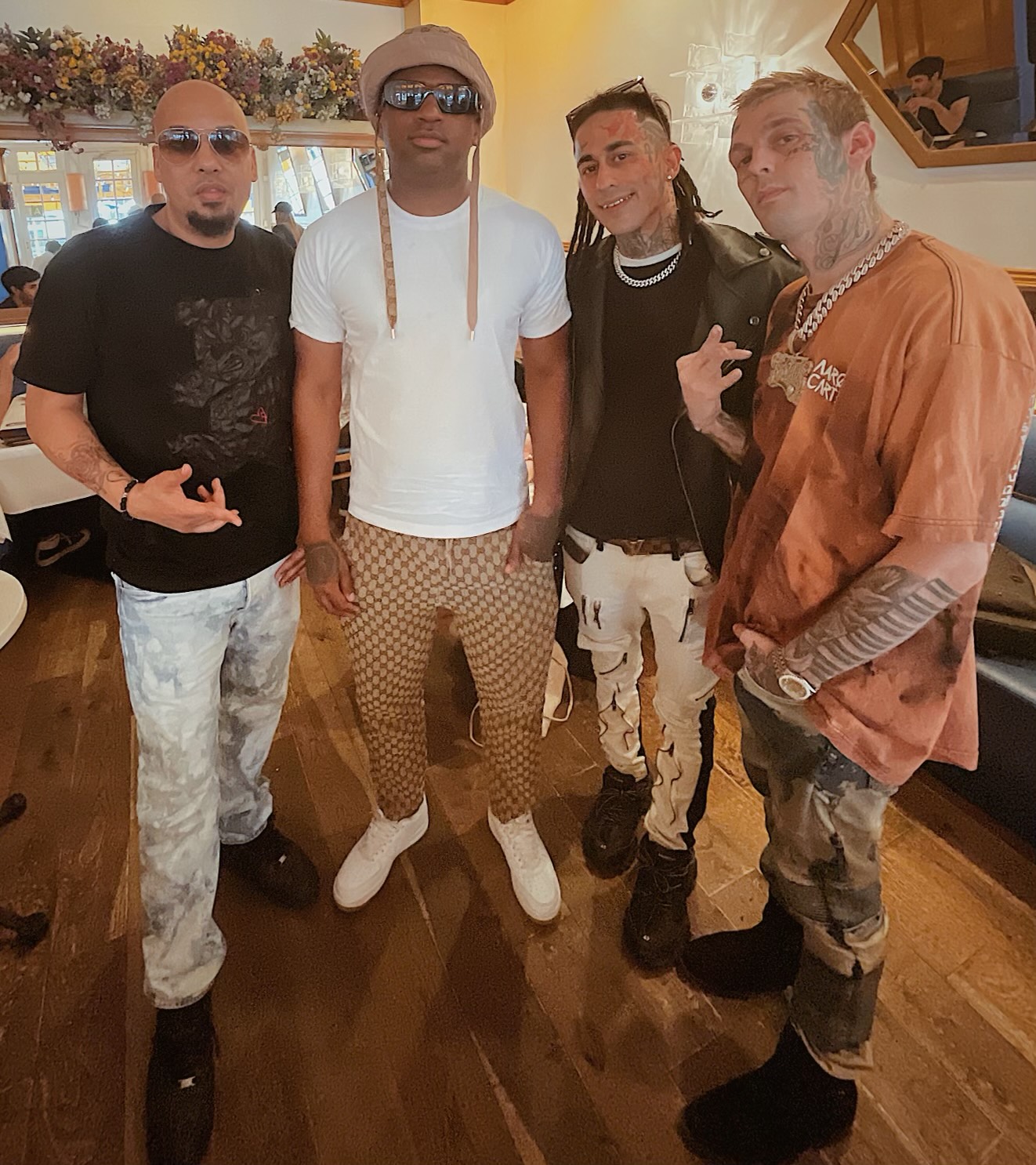 Manager Eric Steven, Platinum Award Winning Producer of BTS Jayrah Gibson, Recording Artist Checkthestar and PopStar Aaron Carter.
Music artist Checkthestar (aka Miguel Garcia) is a free spirit who believes in living life to the fullest and is always searching for ways to help people feel better and live happier more successful lives. In 2006, Checkthestar was shot in the head, which caused him to suffer from anxiety, depression, muscle spasms, lack of appetite, and more. Since then, he has been open about his challenges and has been on a journey to discover new things that help him feel better. He has recently discovered an all-natural product OG LYFE.
"This is an amazing opportunity for me to help others who suffer from these same issues. I've been on a journey myself and am so glad that I can share this product with others", said Checkthestar.
Originally hailing from Florida, Checkthestar leads with a sense of unity which he creates through self-love. The community that he has brought together was made possible through social media. He went viral with nearly 3 million views last October from a leaked video that ended up on the World Star social media page that has more than 30 million followers. With an online presence that has attracted fans, skeptics, and unexpected connections, he has experienced huge growth in the Instagram community with influencers and talent such as: Xenathewitcher, Jokergangsouth, FJOutlaw, Trapbeckham, Jimmy Smacks Flyysoulja, Kodiyakredd, DJBNYCE, DQ4EQUIS, Aaron Carter, Tony Mercedes, Jayrah Gibson, BallValvetv & more!
Checkthestar doesn't identify as a songwriter and is a rare example of an artist who creates songs on the go. He creates melodies without using a notepad or pen, showing up to the studio and allowing his creativity to fl. The rapper has shared the stage with, Caskey, Skimask the Slump God, 458KEEZ, Machine Gun Kelly, Dq4equis, Icy Narco, Babygoth, Famouskidbrick, and many more. He stays prepared by remaining present-minded and concentrating on his goals.
ChecktheStar dropped "No Motion" earlier this year, with the release inspired by haters. The song is about staying in motion and moving forward while also taking time to reflect on negative energy, with lyrics such as:
"How you say you poppin' you got no motion I been spinning for a grip I been feeling nauseous"
The lyrics are in reference to people talking a big game and not really doing much. Checkthestar mentions spinning because he has been going in circles for so long and it is sickening to him that it took so long to be discovered.
"No Motion" is available on all platforms.
Upcoming project
"Why So Serious" Ft 458keez
"The Reason" with Checkthestar produced by Thebassgawd featuring influencer and singer, Amaris Sampson also known as Xenathewitcher will be dropping soon. Stay on the lookout for "The Reason" music video produced by CreasyVisuals.
Seven City Tour October 13th 2022 starting in Orlando and ending in Knoxville.
Features to include: Bag up with Roxane Luciano, collaboration with producer WhoisDVRKO, seven Track EP titled, "California Dreamin" and currently in the studio with Jayrah Gibson, Tony Mercedes, BassGawd, DJBNYCE and More!
Instagram: https://www.instagram.com/checkthestar/?hl=en
Spotify: https://open.spotify.com/artist/1kHZdQmO84o63R9Y1xHOM9
Apple Music: https://music.apple.com/us/artist/checkthestar/1437682364
XenatheWitcher IG: https://www.instagram.com/xenathewitcher/
Media Contact
Company Name: Ict
Contact Person: Holly Davidson
Email: Send Email
City: Los Angeles
State: California
Country: United States
Website: www.Iconnectyou.today