Author Herbert King Announces New Book "That Is A Good Idea" To Help People Make Money During Covid
Getting a job to pay bills in this covid time can be challenging. Herbert, an expert in money-making ideas has just released a book to help people turn their hobby into cash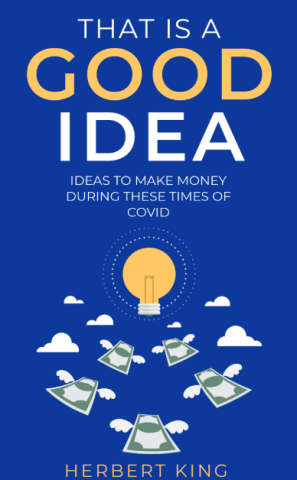 Herbert King, author and money-making expert, announces his new book titled "That Is A Good Idea: Ideas To Make Money During These Times Of Covid." The book is for people forced to stay at home because of covid but is looking for ways to become self-employed and make money for passive income or settle bills.
The book contains many innovative ideas and tips to turn passion or hobby into a money-making machine. According to Herbert, many people already have the creative capacity or something they're good at. However, they need someone to help them harness these creative abilities and convert them into cash by offering services and solving problems.
Technology is growing every day, making it possible for people to work from home and deliver excellent jobs. But many people aren't aware of these opportunities, and those who know have no idea how to convert their creative ideas into money. This book is written to help people discover their talent and convert their hobby into passive income that can even become a major source of revenue when done well.
The 124-page book is written in English language and available in kindle, audiobook, and paperback. It discusses in detail 9 different things people can do to make money or monetize their ideas. Everyone is an expert at something, and there are always people out there who are willing to pay to learn from their experience and expertise. The book provides a simple guide on how to go into online teaching, get paying students, and create large followership.
Affiliate marketing is another great idea the book talks about. Readers will learn everything about affiliate programs, how to start it, and the best ways to establish it and start a blog to drive traffic. Those who're good at writing can work from home writing and selling ebooks and audiobooks. The book offers a step-by-step guide on coming up with ebook ideas that sell, planning the chapters, writing, editing, formatting, and publishing.
Everyone needs videos and photographs to promote their businesses and services. That Is A Good Idea has a chapter on starting a YouTube video, creating content, getting subscribers, and monetization. Readers will also learn how to get the right equipment, take powerful photographs, and make money selling their images on third-party stock photo sites.
To purchase the book, please visit Amazon.
Media Contact
Author: Herbert King
Email: [email protected]
Country: USA
Media Contact
Company Name: That Is A Good Idea
Contact Person: Herbert King
Email: Send Email
Country: United States
Website: www.amazon.com/That-Good-Idea-Ideas-During/dp/B09JJ7H6TG/