How To Improve The Life Of Asphalt Shingles? – Good Color Sand
No matter what kind of products, there must be a service life, the house will also have a service life, now many people will use asphalt shingles on the roof, then do people know how to improve the service life of asphalt shingles, take a look.
How to improve the service life of asphalt shingles: good color sand
General color sand: the low cost of color sand and the problem of equipment and technology, the real service life of color sand is only about ten years. This can make asphalt shingle inherent in good materials, such as good fiberglass tire and asphalt, appearance of the color sand fades in a decade or so later, present a white brush to brush a roof, because of the fading degree is differ, grey colour sand layer and roofing shades of feeling, looks a little like a camouflage, but the roof is beautiful, brilliant color sense.
Good colored sand: Real thirty years do not fade, not to drop sand asphalt shingle is needs to have the color sand, fiberglass tire base and asphalt and need strong weather resistance and oxidation resistance, color on the surface of the sand is responsible for the beautiful and waterproof performance, the first to die of colored sand is related to the key to the life of the asphalt shingle atrophy, internal and external materials is actually a whole, broken relationship.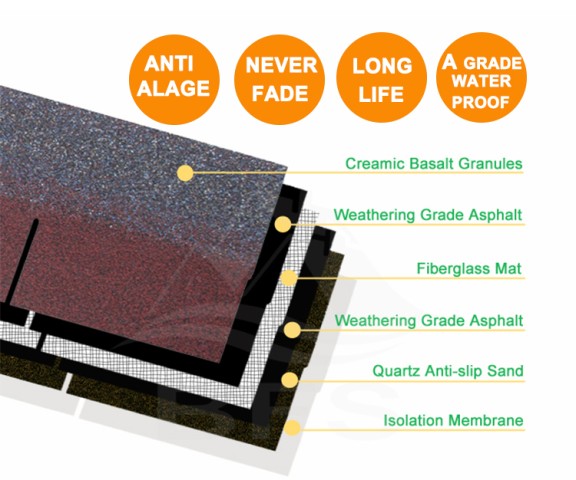 How to improve the service life of asphalt shingles: In-depth interpretation of the production process
Asphalt shingle production process that everyone is clear, is the fiberglass tire into high temperature melting bitumen, two layer formation in fiberglass tire base asphalt coating, under the condition of no cooling in the asphalt coating, the color sand invaded directly to the asphalt coating on the sand texture in the process of asphalt cooling, are fixed on the asphalt coating.
Note here, in the case of jerky or uneven color sand, there will be a very thin color sand coating or inside the asphalt coating will ooze to the color sand coating, which is also one of the keys to test the quality of asphalt shingles or there is no jerky.
original source: https://www.asphaltroofshingle.com/news/
Media Contact
Company Name: TIANJIN BFS CO LIMITED
Email: Send Email
Phone: 0086-22-86865902
Address:NO. 18, TIANXIU STREET, TIEDONG ROAD, BEICHEN DISTRICT
City: TIANJIN
Country: China
Website: https://www.asphaltroofshingle.com/