Sanch Electronix Limited (SANCH) Set to Celebrate the Steelpan and Launch the HOLA ENCORE CONCERT Online as part of EXPO 2020 DUBAI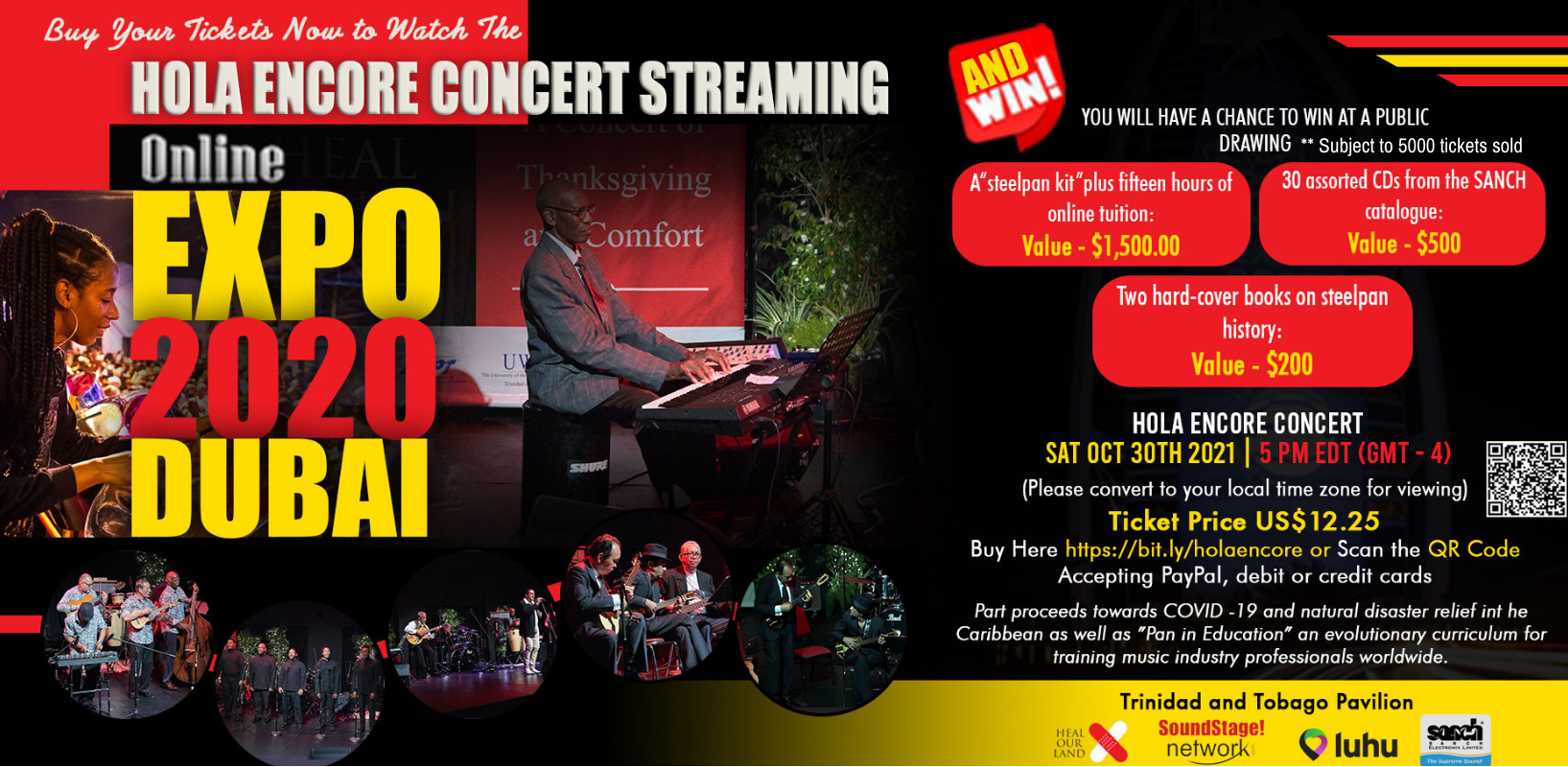 Trinidad and Tobago's Innovative media outfit, Sanch Electronix Limited, invites audiences around the world to watch the HOLA ENCORE CONCERT, a reflective and healing concert of thanksgiving and comfort hosted by distinguished pianist Felix Roach and Friends
Sanch Electronix Limited, otherwise known as SANCH, has partnered with the Steelpan Tuners' Guild of Trinidad and Tobago (STGTT) to celebrate the history, development, and innovation of the national musical instrument of the Republic of Trinidad and Tobago – the Steelpan at the Exportt Trinidad and Tobago Pavilion, during the EXPO 2020 Dubai celebration.
HEAL OUR LAND ENCORE – THE CONCERT will be streamed online Saturday, October 30, 2021, from 5:00 p.m. to 7:00 p.m. EDT. This timely HOLA concert seeks to bring together millions of people from different parts of the world to experience the cosmopolitan genres of musical diversity emanating from Trinidad and Tobago. HOLA, which means Heal Our Land is a reflective and healing Concert of Thanksgiving and Comfort, with Felix Roach and Friends.
The Covid-19 crisis as well as recent happenings in different parts of the world have brought to bear the challenges faced by millions of people across the globe. In a related development, many initiatives have been developed to tackle several issues, including racial prejudice, gender inequality, child abuse and global warming. However, SANCH aims to establish a connection with the Great Healer and Creator to help conquer these challenges with the outreach and global appeal of HEAL OUR LAND (HOLA) ENCORE CONCERT.
The theme of the event says a lot about the intention of the organizers. STGTT and SANCH will present #GPS – GLOBALLY POSITIONING STEELPAN at the Trinidad and Tobago Pavilion during Expo 2020 Dubai. It will be the first time in World Expo history that every participating country will have its own pavilion, creating immersive cultural experiences to reveal the uniqueness of each country.
SANCH has partnered with EXPORTT to donate samples from its diverse steelpan treasury to three individuals, organizations, or entities who visit the Trinidad and Tobago Pavilion during Expo 2020 Dubai and buy tickets for HOLA ENCORE. There is also the chance of winning a "pan kit" along with fifteen hours of online tuition worth $1500.00, 30 assorted CDs from the SANCH catalogue valued at $500.00 and two hard-cover books on steelpan history valued at $200.00, respectively. The artifacts will be shipped from Trinidad to the lucky winners randomly generated by a computer, irrespective of their location.
** (Winners will be randomly drawn and announced on all social media platforms after 5000 tickets are sold.)
For more information about HEAL OUR LAND ENCORE – THE CONCERT and to get tickets to the event, visit EventBrite. The Box Office sales will close 12:00 PM on the day of the event. The HEAL OUR LAND (HOLA) ENCORE CONCERT socialization also continues across social media, including Facebook and YouTube.
Media Contact
Company Name: Sanch Electronix Limited (SANCH) PRESENTS HOLA ENCORE CONCERT STREAMING
Contact Person: Simeon Sandiford, Managing Director
Email: Send Email
Country: Trinidad and Tobago
Website: https://bit.ly/holaencore