Air Therapy, the Filter Free Smart Air Purifier with UV Sterilization surpasses its funding goal on Indiegogo with a huge amount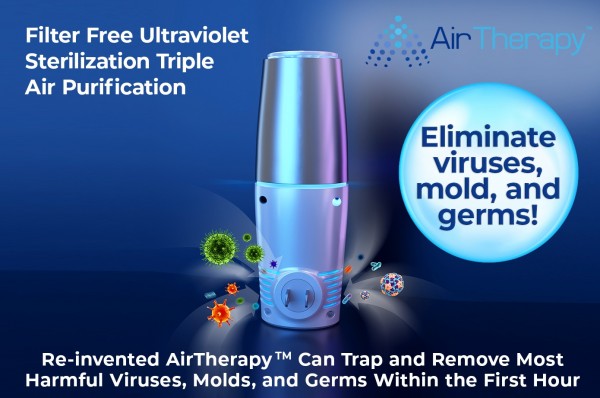 In today's world, having clean air in your home or car is a must. Everyone is being cautious when comes to Viruses, Bacteria and Germs. On top of that indoor air pollution is at an all time high.
It doesn't matter today if you are living in a city, or in the countryside, studies show that all the places are now polluted, only the intensity differs. This has increased the need for an air purifier that is a necessity in every household. Air Therapy smart air purifiers have become everyone's best choice to help kill Bacteria, Viruses and Germs for healthier and cleaner air around them.
With its crowdfunding campaign, Air Therapy surpassed its Indiegogo goal with a huge amount within a few hours of launching the campaign.. The campaign isn't closed yet, so you can order Air Therapy: Plug-in+ Portable at a 67% discount but there's not much time left before the discount is no longer available.
With the new and improved version of Air Therapy there is no filter and it's whisper quite, so you will now be able to get rid of viruses, mold, and germs in your home or on the go. It will help you remove difficult washroom odors, and neutralize indoor pet odors. With the fully sealed UV air purification device, you can now sanitize the air from harmful bacteria, viruses, and even allergens for cleaner air, and lead a healthier and happier life.
Air Therapy will help you sleep peacefully at night, as it has a whisper quiet fan that produces minimal noise. You no longer have to worry about cleaning or replacing the filters of your air purifier, as Air Therapy uses pure UV-C sterilization methods, which makes it very convenient to use. The other benefits of Air Therapy include, helping to reduce coughing and headache irritation and will help you relax and sleep peacefully at night. It has up to 6 times better longevity, making it an excellent investment.
Air Therapy is the most advanced air purifier in the market, which continuously kills 99.9% of bacteria, all because of the UVC lamp and LED light in the device. It consumes very low energy, using only up to 3 watts for 11 hours of continuous operation.
Air Therapy is now available at $79 through an early bird offer, which is 60% less than the retail price. The product is shipped worldwide.
More information about Air Therapy and other rewards can be found on its Indiegogo campaign page.
Media Contact
Company Name: MedEx Lab
Contact Person: Brian
Email: Send Email
Country: United States
Website: www.indiegogo.com/projects/airtherapy-reinvented-family-air-quality-guardian/x/22993633#/